Yoga. It's one of my favorite things, and when I do it regularly, my body and my mind are more healthy. But fitting yoga into my life hasn't been easy. Making time to attend a class outside of the home (2 hours 25 minutes for a 1.25 hour class with travel) was not easy for me, and I wasn't practicing at home, so my yoga mat started to collect dust in the basement. I realized that I wasn't making room in my life for yoga, and I had lots of excuses for why my mat was so lonely. I have decided to kick those reasons to the curb and add yoga back into my life everyday. I don't need to do an hour and a half class to be effective, I just need to DO something. I knew I could find 8 minutes everyday, and I think you can to.
Here's an easy plan to add yoga to your everyday. 8 minutes is all you need!
Plan for daily yoga. You only need 8 minutes, so figure out where you'll fit that in. Wake up earlier? Before bed? Lunchtime? Just make the time.
Get dressed in your yoga wear. This just needs to be something you can easily move and bend in, and that you won't be tripping on.
Roll out your yoga mat. Finding a designated space in your home where you can lay your mat, and feel comfortable, is an important piece of a successful home practice. Stake your claim on that part of your home, and place your yoga mat close by.
Get electronic device, Tablet or Phone, and go to youtube and pull up one of these videos. Each one is about 5 and a half minutes…
For Yoga Beginners:


For Those More Experienced with Yoga:

Tina's Tips of Feng Shui: Always lay your mat in the Power Position, so that you are facing the doorway to the room, and so that you have something firm and grounding behind you, like a wall. No one can sneak up on you, and you will feel much more power in your practice.
5.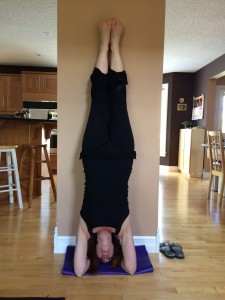 If you are more experienced with yoga, take another minute and go upside down. Here's how:
Fold your mat and place it at the base of a wall.
Kneel in front of your mat and interlace your fingers and make a cup shape to support your head. Your elbows should be just shoulder width apart.
Place your head between your hands, and straighten your legs up into a pike position. Get your bum as close to the wall as you can.
Kick your feet up onto the wall, and press your elbows down into the floor. Your arms, not your head,  should be supporting your body. Squeeze your ab muscles, tighten your butt cheeks, and reach with strong legs up to the ceiling.  Breathe, relax and stay in this position for a minute (or longer if you can, and you have time).

6. Sit on your mat in Cobler's Pose (criss cross), close your eyes and meditate for 1 minute, focusing only on your breathing.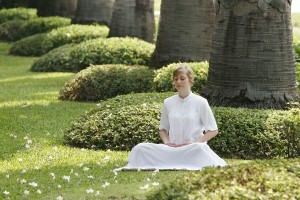 7. Place your hands in the prayer position, and say "Namaste" (Na-Ma-Stay) to the Universe, while you bow your head.
8. Roll up your mat and get it ready for the next day. Change into your regular clothes, if you have to.
Start to finish, 8 minutes for a little yoga and some meditation. Time is our worst enemy, and our favorite excuse for why we don't do the things we love. An hour and a half class is a luxury, and when you can afford the time, do it!   But for everyday, let 8 minutes be enough for you and just get on the mat today, and everyday!   In 8 minutes, you can stretch, breathe and focus yourself. You're worth it.
Namaste!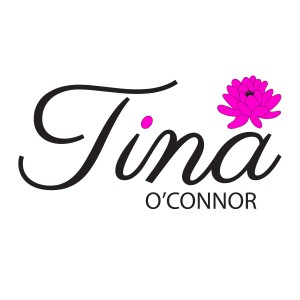 Originally published on tinaoconnor.com and shared with permission.
The following two tabs change content below.
Tina O'Connor is an on-air personality and relationship expert who focuses on parenting, sex and lifestyle issues — with a feng shui twist. She is the author and creator of the popular "Be That" book series, whose titles include "Be That Girl," "Be That Mom" and "Be That Kinky Girl," providing women and couples everywhere with concrete strategies to achieve more balance, happiness, peace and success in their lives. Tina holds a BSc in psychology and is a certified feng shui practitioner and mom of three who appears regularly on Global, CTV and Rogers TV stations across Canada. She has also appeared as a guest on a wide variety of radio stations, from CBC to Playboy Radio. With her straight-talking approach and dynamic personality, Tina gives real-world advice with a flair for entertainment. She truly is "That Girl."
Latest posts by Tina O'Connor (see all)